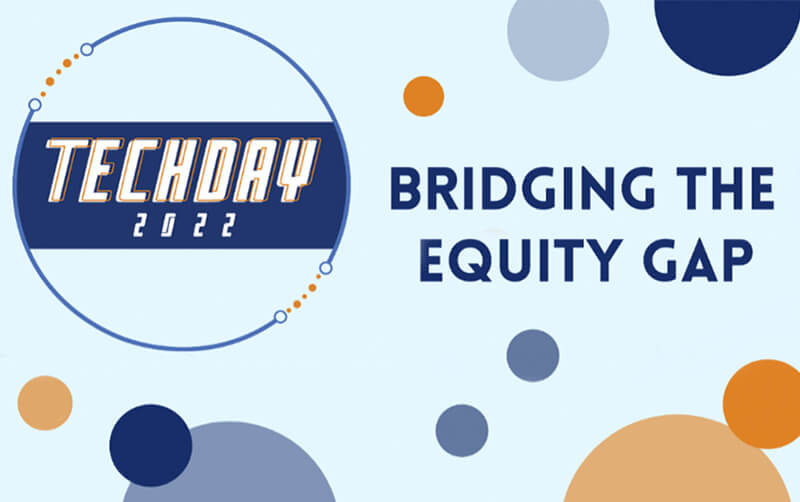 TechDay 2022: Bridging the Equity Gap
From cybersecurity to closing the equity gap in technology, two experts will share their thoughts on October 4 from 9 a.m. to 3:30 p.m., during the annual TechDay 2022, organized by the Division of Computing.
The one-day event at the Pollak Library will begin with keynote speaker Keith W. McIntosh, Vice President of Information Services and Chief Information Officer at the University of Richmond. Prior to joining the University of Richmond, he held a variety of computer leadership positions in higher education and during his 24 years of service in the United States Air Force, including a combat tour in the northern Iraq. This session starts at 9:00 a.m. in PLN-130, followed by breakout sessions. Breakfast will be provided.
The second keynote speaker, Jesse Goldhammer, is Managing Director of Deloitte's Cyber ​​& Strategic Risk practice. This session will start at noon. Goldhammer develops cybersecurity strategies and executes technical programs to protect government agencies and universities, protecting their data, networks, systems and people from a range of cyber threats. He has worked with a variety of clients, including the US defense and intelligence communities, higher education, philanthropy, and the commercial sector. He has deep experience in cybersecurity, strategy, innovation, scenario planning and workforce training. Lunch will be provided.
This event is open to students, teachers and staff.
Discover our website to find out the schedule, attend the sessions, complete the evaluation and participate in the draw to win a great prize!
This event is sponsored by the Information Technology Division.