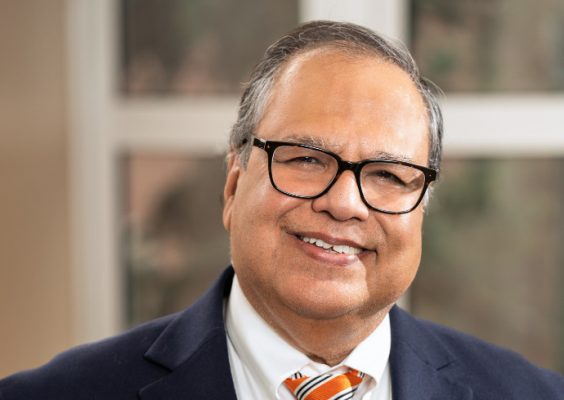 Dean Rajiv 'Raj' Dewan steps down as Dean of the School of Information Studies
Rajiv "Raj" Dewan, Dean of the School of Information Studies, announced that he will complete his deanship on June 30, 2022. Dewan plans to return to full-time faculty while continuing his research. David Seaman, dean of Syracuse University Libraries and university librarian, will serve as interim dean until Dewan's successor is named.
"Raj took over the leadership of iSchool at a time of extraordinary and rapid change, as the pandemic has not only transformed the way universities carry out their educational mission, but has also changed the way the world works, becoming even more dependent on information and digital technologies. economy," said Vice Chancellor and Provost Gretchen Ritter. "He has worked closely with faculty to implement new programs that have secured iSchool's position at the forefront of transformative change in the digital age. I appreciate his leadership and commitment to iSchool and Syracuse University.
During Dewan's tenure as Dean of iSchool, the Center for the Future of Work, Information and Technology was created to serve as a hub for sharing ideas and research among faculty, students, and possibly third-party partnerships to help secure research funding. To better prepare students for the ever-changing workforce, iSchool has added an Advanced Certificate in Cloud Management program. Also last fall, iSchool launched two new undergraduate programs in Innovation, Society and Technology and Applied Data Analytics, as well as a new online program for part-time students interested in pursuing a Bachelor of Management degree. information and technology while exploring topics such as cybersecurity, machine learning, artificial intelligence and cloud computing, project management and business.
Additionally, over the past two years, iSchool teachers have won prestigious scholarships from the Institute of Museum and Library Services to fund library and information science projects, and hosted Syracuse's first blockchain and cryptocurrency research workshop. The iSchool has positioned itself at the forefront of blockchain and cryptocurrency research and education in recent years by offering the first blockchain management course for undergraduate students, and courses in online and in person for Masters students.
"Despite the tremendous challenges of the past two years, it has been a great privilege to lead the talented and dedicated faculty, staff and students at iSchool," says Dewan. "Together, we have advanced the mission of iSchool, always emphasizing excellence in teaching and research and preparing our students for the greatest areas of labor demand by evolution. We did all of this while navigating the uncertainty and unknown brought on by a once-in-a-lifetime pandemic. I very much look forward to returning to the classroom with our excellent students and alongside my excellent faculty colleagues, and resuming my research on business analytics and information systems standards.
Dewan came to Syracuse University from the University of Rochester Simon Business School with expertise in both information technology and analytics and an impressive track record of innovative programs in teaching and pursuing relevant research.
Seaman is once again assuming the role of Acting Dean, a position he previously held from May 2019 to January 2020, between the retirement of longtime iSchool Dean Liz Liddy and the hiring of Dewan.
"David is truly qualified to guide iSchool through this next leadership transition," says Ritter. "He has unparalleled experience working in a collaborative academic environment and knows the leadership qualities expected by iSchool and its partners."
As Dean of Libraries and University Librarian, Seaman and his team continue to provide the services and collections needed to stimulate 21st century research, teaching and learning, and to provide welcoming spaces for study, collaboration and innovation. Dean Seaman came to Syracuse after serving in leadership positions at Dartmouth College, the Digital Library Federation, and the University of Virginia. He has lectured widely and published widely in the areas of humanities computing and digital libraries, and taught for many years at the University of Virginia's Rare Book School.
About Syracuse University
Syracuse University is a private research university that advances knowledge across disciplines to foster breakthrough discoveries and small group leadership. Our collection of 13 schools and colleges with over 200 customizable majors bridges the gap between education and action, so students can take on the world. In and beyond the classroom, we connect people, perspectives, and practices to solve interconnected challenges with interdisciplinary approaches. Together we are a powerful community that moves ideas, people and impact beyond what is possible.