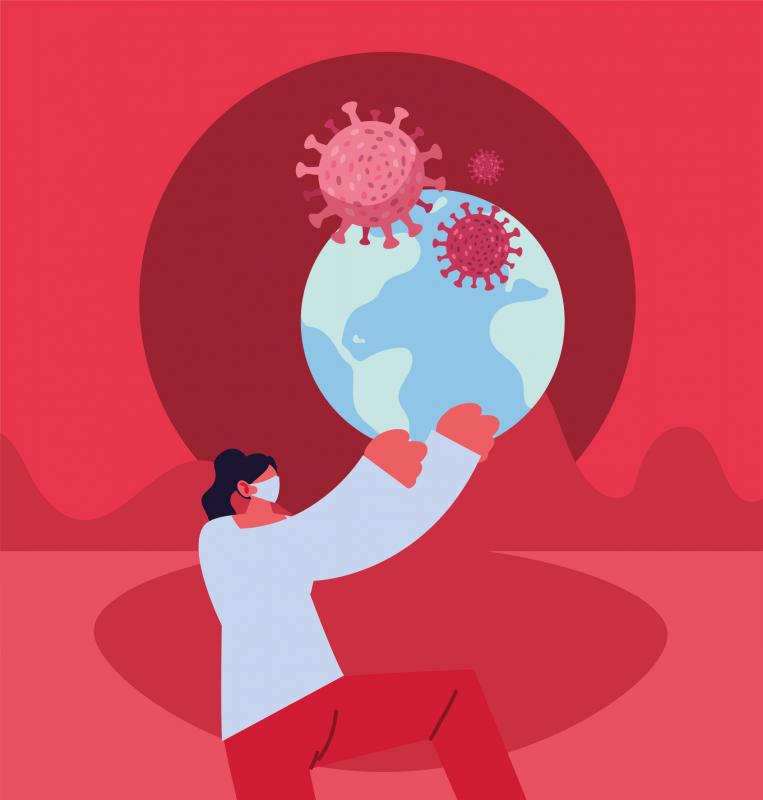 Academic administrator shares lessons on managing change during COVID (advisory)
[ad_1]
In the last semester, a year after the start of the pandemic, a colleague known in her field for her teaching expertise called. "I put my hands up. They were sitting there on the Zoom, but neither of them had turned on their cameras, despite being asked. None of them had read, despite the fact that we discussed the importance of coming to class after doing so. I even gave them the leave suggested by the administration last week so that they could catch up; they obviously don't care.
What do you do when the situation doesn't work? We are quite good at what we teach – I can easily see where the confusion in Greek vase kiln techniques is coming from. But COVID has forced all of us, including those of us who are university administrators, to be flexible and adapt.
In the spring semester of 2020, when it all came to a screeching halt, we tried to play what it would be like for a two-week quarantine which then quickly became a two-month hiatus. We spent the summer planning distance education, hybrid and asynchronous, measuring classrooms for social distancing, stocking up on buckets of wipes and hand sanitizer, and trying to plan the teaching of. our forties if we were lying down ourselves. We learned several techniques and distribution platforms. We talked about the importance of creating safe spaces that also engage our students.
It's clear that part of our exhaustion is now the reality that none of these scenarios turned out exactly as planned. We have devoted a tremendous amount of time, energy and emotional bandwidth to managing our change.
I am an art historian who has been associate dean of university student services for the past five years. I am certainly not a management consultant. But I have learned a few things about change management as a result of this long COVID year.
Find a mentor or a network of mentors. I'm not just talking about a friend you can bitch with. Find someone who cares about pedagogy from a perspective similar to yours and understands your perspective on working with students, colleagues, and administrators. Having someone to exchange ideas is a crucial part of the exchange that you need to encourage. Because of my position as Academic Dean, I naturally attract faculty members looking for feedback, but those of us who are administrators should also actively develop networks. Even before COVID, we met regularly as a group of university deans from all the colleges in the university. I'm better off having someone who understands my role in college and can help me navigate the emerging field.
Develop your critical empathy skills. Communication is a factor in any organization, but universities often have independent offices and departments that don't know how to talk to each other, even when a situation suddenly brings them together. COVID has exacerbated these difficulties by decreasing our face-to-face contact (and also hiding it behind a mask) and increasing our use of email.
Yet careful communication when everyone is already stressed and overwhelmed can make a difference in the response. We adapted to Zoom and other technologies, but success could be elusive: meetings lasted too long; each meeting often had its own specific etiquette of muting, chatting and using cameras; and participants often could not read the conversation cues smoothly.
But I've learned that by listening without speaking first, using "we" instead of "I" statements, and acknowledging the emotional charges involved, you can create an atmosphere where the community is working with you. So be sure to thank your colleagues and staff for the work they do and close emails with a variation of "Thank you, as always, for all the work you do to help our students," in recognition of Their efforts.
Also, when I still had to change things, I apologize – partly to just point out that I understand the imposition and their exhaustion. Change management studies often speak of this as how to deal with uncertainty in order to maintain engagement. COVID has added grief, loss and trauma to our sense of upheaval; change management that recognizes that we cannot undo what has happened is more vital than ever.
Accept that some changes will fail. When systemic changes fail, they can create a domino effect of consequences. We have seen it in our classes: absenteeism has increased, morale has fallen, productivity has suffered. The specter of a worsening epidemic, causing serious illness or death from a COVID-related malfunction, has heightened tension to make changes. And it was harder to tell the difference between minor changes and crucial changes, adding to our exhaustion.
The change management literature is replete with reasons why change fails, including insufficiently defined reasons for change, a culture or audience resisting the change or process, insufficient resources, and outside pressures. Part of the reason change attempts failed during COVID is because we tried to implement top notch direct changes. We know those from our classroom experiences, but the changes in COVID have been corrective: reactions to unanswered questions and attempts to deal with the vagaries that have resisted our efforts.
For example, our institution spent time and energy discussing our process for students who refused to wear the mandatory masks. We ordered materials to clean classrooms between classes that never matched the logistics or expected responsibilities. The realities imposed on us by the virus itself and outside institutions like our state and federal governments have pushed us to work together on a very imperfect common ground.
People tend to be averse to conflict. We would like things to go well, which during the pandemic rarely happened. Even more difficult, we also had to admit that sometimes we made changes that failed and that was also part of normal handling of the situation. We were forced to deal with things like our personal levels of anxiety and sense of security, and communicate those concerns to people whose levels were different from ours.
Colleges are reputable independent entities under the unified institutional umbrella – what might work for engineering students will almost certainly not work for art students or graduate students. We had to ask students and colleagues directly how they were doing, given the realities of sick family members or changes in family employment. We needed to know what was going on with the testing, quarantine, and contact tracing; the success of communicating on these issues has made a huge difference in dealing with the daily variations of who might actually be in our classrooms and how they might need support and correction. The staff have changed – due to holidays and layoffs, homework and illness. Where the change management literature reminded us to look at our resources for implementation, those resources were in motion. It all comes back to the idea of ​​listening and evaluating throughout the process.
Recognize that change is constant. Just as we have moved to pandemic realities, so now we need to think about a new transition. The COVID culture has changed so much since those early days of grocery store buffering, modeling different masks and PPE to find a bearable level of protection, rumored treatments, and vaccines to come. We have had success in valuation and adjustment from the start.
This colleague I described who complained about her students? We reflected on a response from me to his students expressing concern about the course of the course, about resources if they knew of extenuating circumstances, and about our expectations that if they did not reach out they would recognize their own. responsibility to improve the classroom experience. None of them responded. But during the next class, I received a text from my colleague: "Today's class was so bon. "We relied on networks of communication, providing resources, expressing empathy and emphasizing expectations and responsibilities.
We are still facing a "normal" inflected by COVID. Will our students need to be vaccinated? Will we need boosters? Will we always wear masks at public gatherings? How are we going to deal with quarantine absences, given that efficiency figures suggest we may need to put policies in place?
But we have, over the past year, addressed each of these realities. It will take time to rebuild from COVID losses, staff reductions, admissions cuts and faculty burnout. Yet we will recover slowly, so that we can begin to synthesize our immediate responsive policies and adapt them for longer term change.
We have all seen where technological resources will allow for continued flexibility in our classes, board and office hours, and meetings. We have established new connections and networks to be more resilient in the face of forced change. We have learned how constant change is by examining our constituencies, reflecting on their needs, and finding ways to create responsive and sustainable policies. Managing this change revealed our empathy, adaptability and resilience. These are the most important skills that we as senior managers can take away from this long pandemic reality.
[ad_2]